About Marlow Cricket Club
Marlow Cricket Club has a rich history dating back to the 19th century. The club was founded in 1829 and is one of the oldest cricket clubs in Buckinghamshire. The club has a strong tradition of cricketing excellence and has produced many talented cricketers over the years.
In the early years, Marlow Cricket Club played on a ground located at the top of High Street in Marlow, but in 1871 the club moved to its present location at Pound Lane, which was once a meadow owned by Sir William Clayton.
Throughout the late 19th century and early 20th century, Marlow Cricket Club flourished, with many talented cricketers representing the club. The club was also involved in many notable matches, including a game against a touring Australian team in 1880.
During World War II, the club's facilities were used by the military, and many of its members served in the armed forces. After the war, the club was rebuilt and continued to thrive, with the 1950s and 60s being particularly successful decades.
In the 1980s and 1990s, Marlow Cricket Club saw a period of significant growth and expansion, with the club's facilities being improved and modernized. The club also established a strong youth development program, which has produced many talented young cricketers who have gone on to play for the club's senior teams.
In recent years, Marlow Cricket Club has continued to go from strength to strength, with the club's senior teams enjoying success in local leagues and competitions. The club also continues to invest in its facilities and infrastructure, with plans to further develop its ground and pavilion.
Today, Marlow Cricket Club remains a vibrant and active part of the local community, providing opportunities for cricketers of all ages and abilities to enjoy the sport. With its rich history and commitment to excellence, Marlow Cricket Club looks set to continue its success for many years to come.
---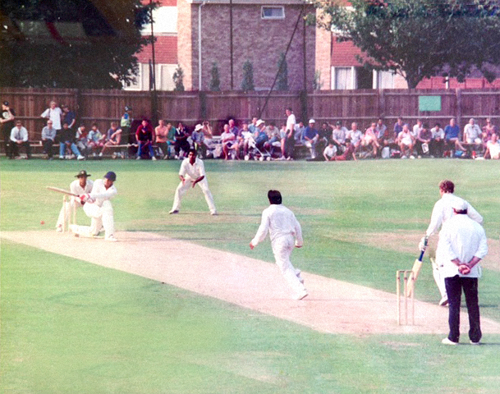 Mushtaq Ahmed bowls during the Pakistani touring game at Marlow Cricket Club in 1992. The Pakistan team included many great players like Waqar Younis, and Inzamam-ul-Haq
The Minor Counties' won the game by 1 wicket.
---
In 1993 we hosted the Ireland V Netherlands women's world cup game. Ireland Women won by 2 wickets with 21 balls of the game remaining.